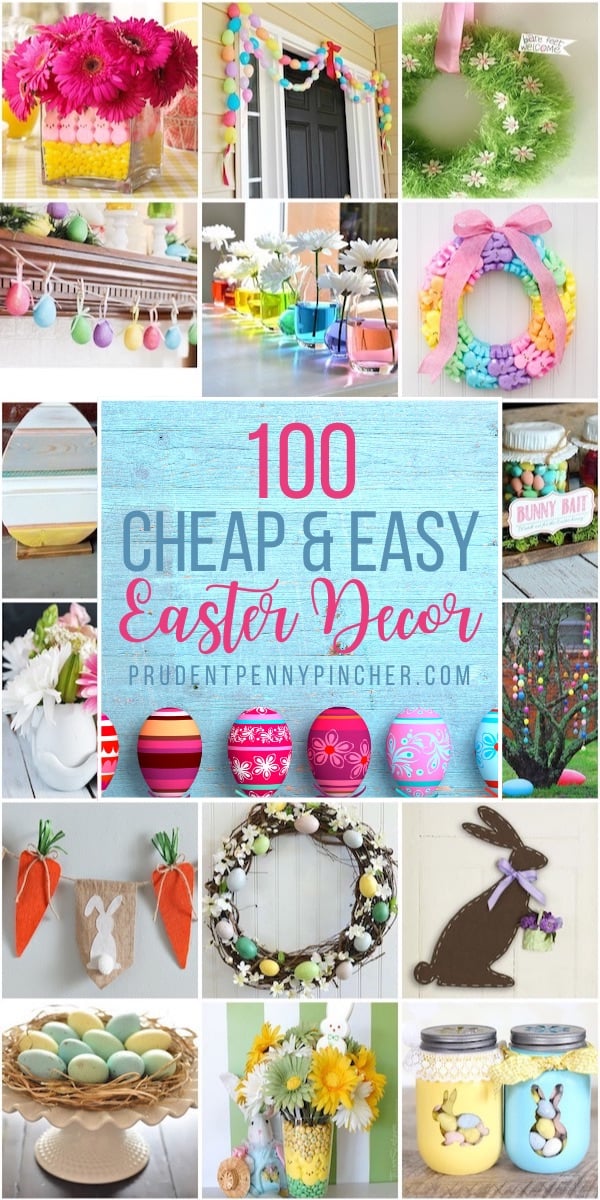 These DIY Easter decorations are budget-friendly and easy to make! There are over a hundred fun and colorful ideas for Easter decor ideas. From wreathsto centerpieces tohome accents, theres something for everyone.
Materials That You Can Get At Dollar Tree:
floral & craft supplies

wreaths forms (grapevine or foam)
floral wire
wire cutters
natural raffia
twine (jute and cotton)

vases
candleholders & candles
easter items
Crafting Supplies You May Need:
Scissors
Glue (epoxyglue, craft or super glue)
Glue gun and glue sticks
Tape
Paint or foam brushes
Ruler or tape measure
X-Acto Knife
Pencil / Pen
Marker
Wreath DIY EasterDecorations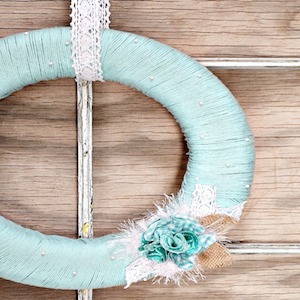 Yarn Wreathfrom 36th Avenue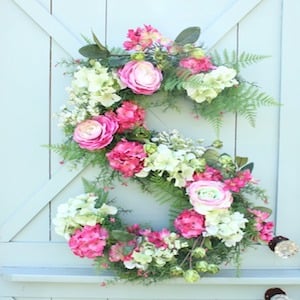 Floral Monogramfrom Daisy Mae Belle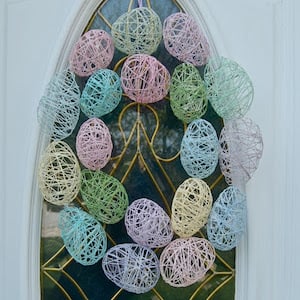 String Easter Egg Wreathfrom Wine and Glue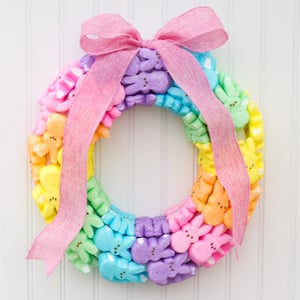 Peep Wreathfrom Tried and True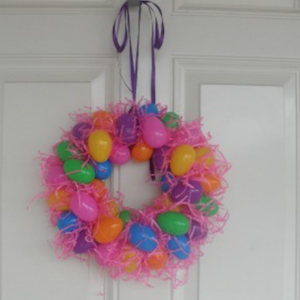 Plastic Egg Wreathfrom Creative Homemaking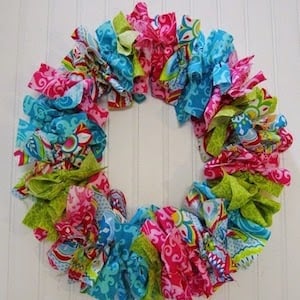 Easy No-Sew Fabric Wreathfrom Confessions of a Serial DIYer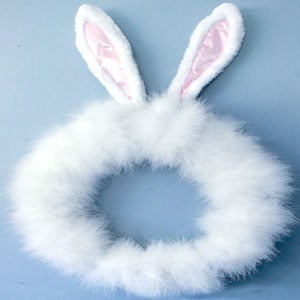 Easter Bunny Wreathfrom Two Sisters Crafting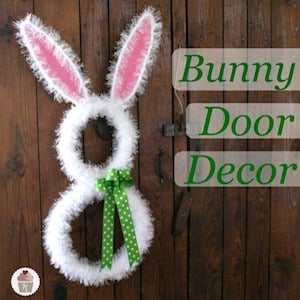 Bunny Wreath from Simple Easy Creative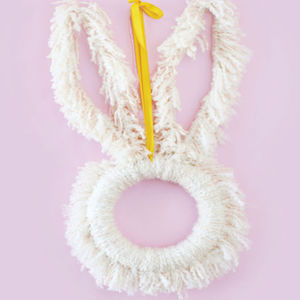 Bunny Wreathfrom Good Housekeeping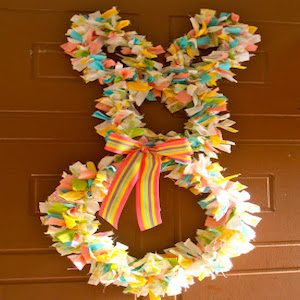 Fabric Scrap Easter Bunnyfrom Giggle Berry Creations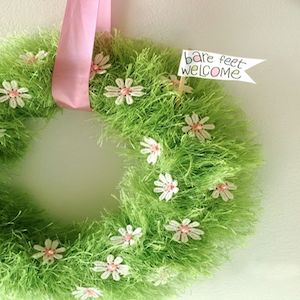 Spring Baby Grass Wreathfrom Patty Schaffer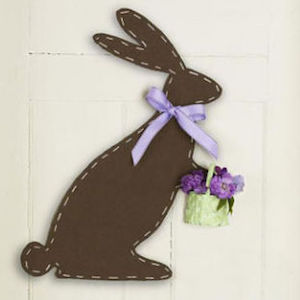 Felt Bunny Door Hangerfrom Good Housekeeping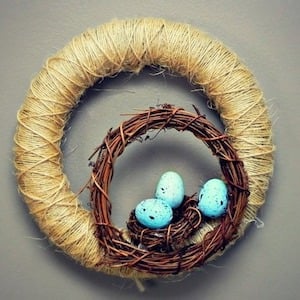 Dollar Store Nest Wreathfrom Mad in Crafts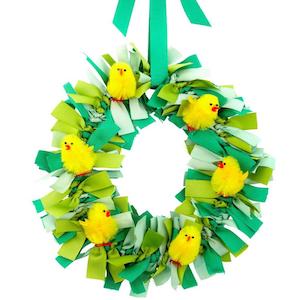 Chick Wreathfrom HGTV.com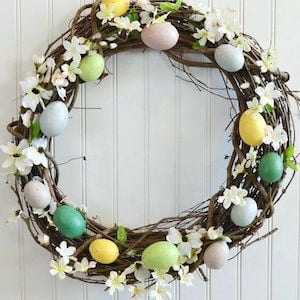 Rustic Egg Wreathfrom Meatloaf and Melodrama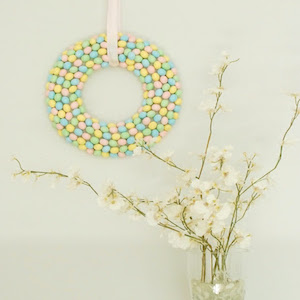 Candy Wreathfrom Anna Blue Paperie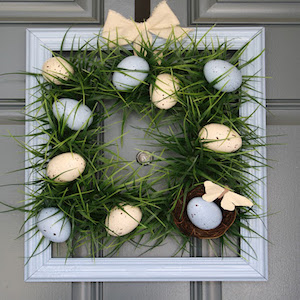 Spring Grass Easter Wreathfrom The CSI Project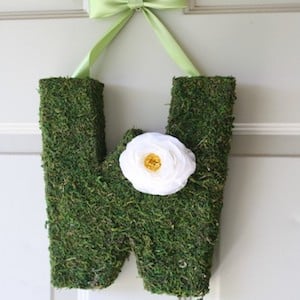 Moss Monogramfrom Catch My Party
---
Centerpieces and Floral Arrangements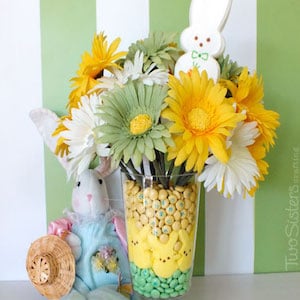 Peeps Centerpiecefrom Two Sisters Crafting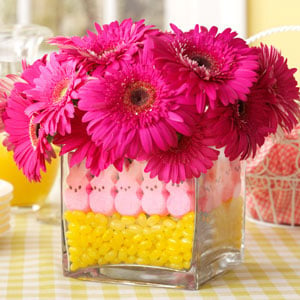 Easter Peeps Centerpiecefrom Taste of Home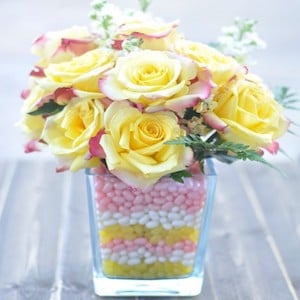 Layered Candy Filled Vase with Flowersfrom Get Creative Juice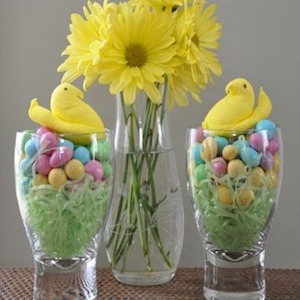 Chicks & Candy Centerpiecefrom Happy Clipping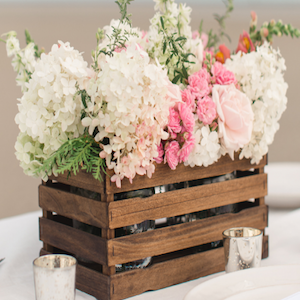 Paint Stick Basketfrom Build Basic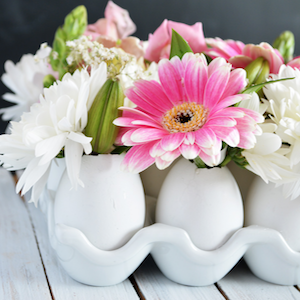 Eggshell FlowerCenterpiecefrom Little Inspiration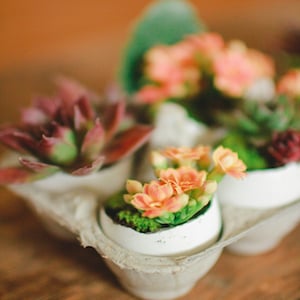 Eggshell Plantersfrom Le Robins Nest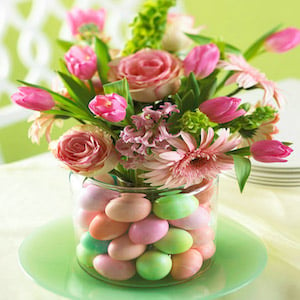 Easter Egg Vasefrom BHG.com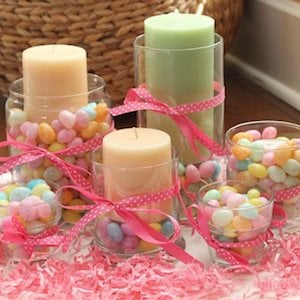 Jelly Bean Candle Centerpiecefrom Passionate Penny Pincher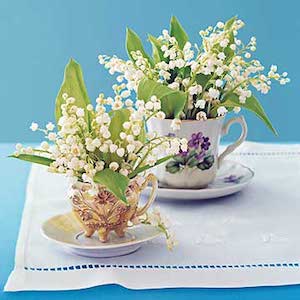 Tea Cup Flowersfrom BHG.com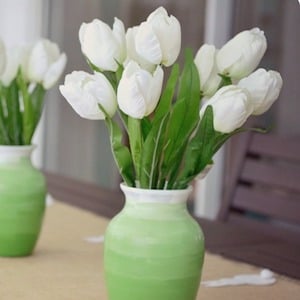 Ombre Spring Vasefrom Living Well Spending Less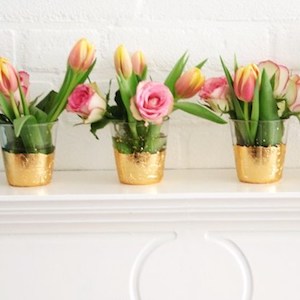 Gold Leaf Vases or Votivesfrom By Wilma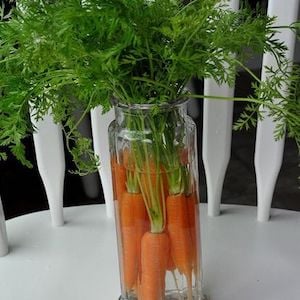 Carrots in a Vase (source unknown)
carrots + tall vase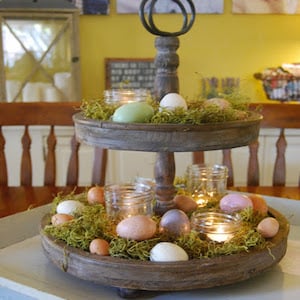 Mossy Cupcake Standfrom Momfessionals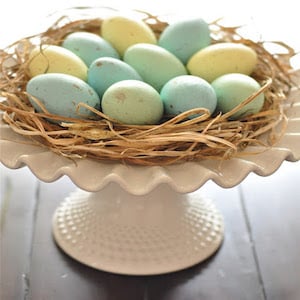 Nest Cake Standfrom Get Creative Juice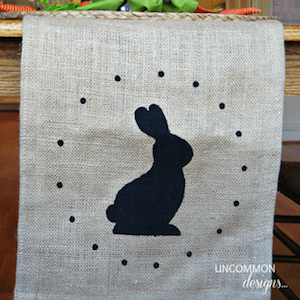 Burlap Stencil Bunny Table-Runnerfrom Uncommon Designs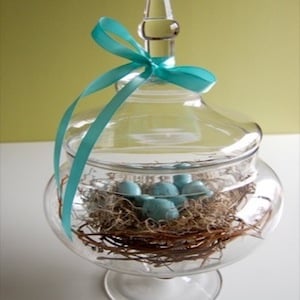 Robin Egg Nest Jarfrom No Biggie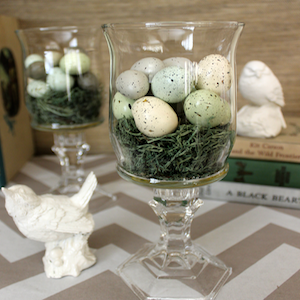 Dollar Store Easter Vasesfrom Salt and Pepper Moms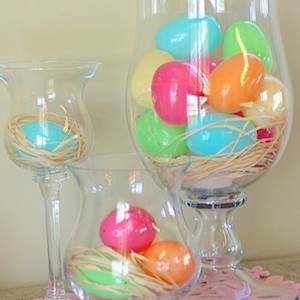 Easter Egg Vasesfrom All Things G&D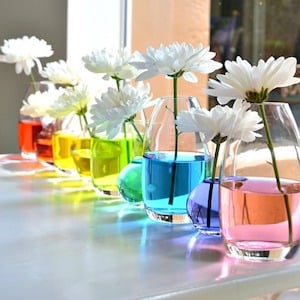 Rainbow Centerpiecesfrom Papery and Cakery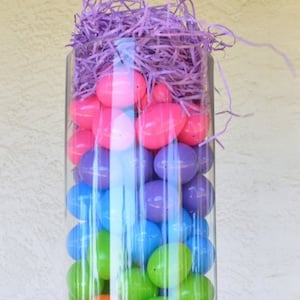 Tall Easter Egg Vasefrom Purple Patch DIY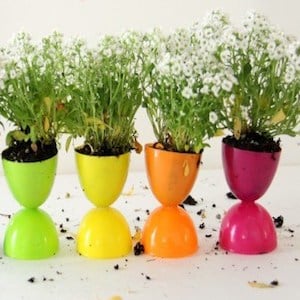 Plastic Egg Planterfrom Made with Happy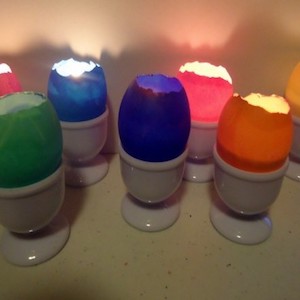 Eggshell Votivesfrom Felt Magnet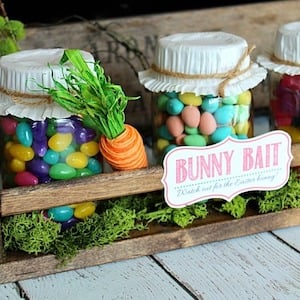 Easter Candy Mason Jarsfrom Clean and Sensible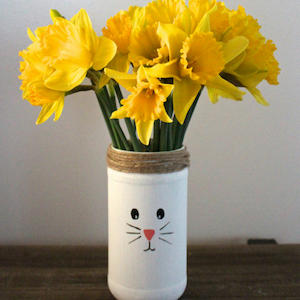 Recycled Easter Bunny Vasefrom Weekend Craft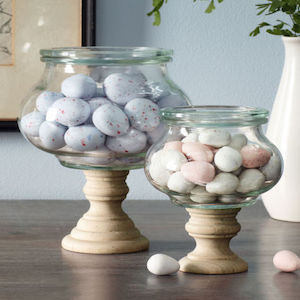 Easter Candy Jarsfrom Country Living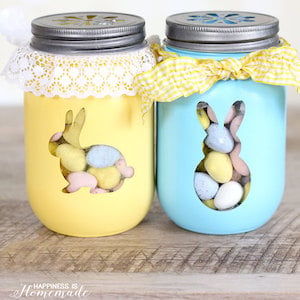 Easter Candy Mason Jarfrom Happiness is Homemade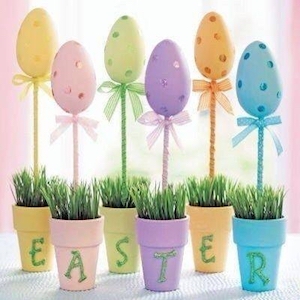 Growing Easter Eggsfrom Dollar Tree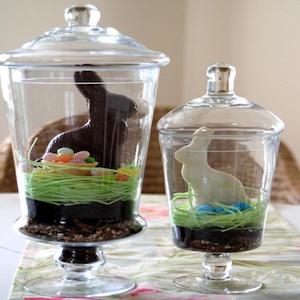 Edible Easter Terrariumfrom HGTV.com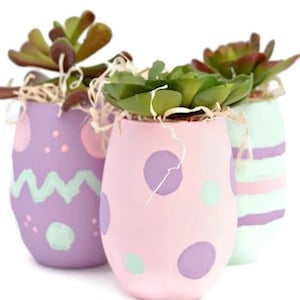 Easter Glass Vasefrom Tatertots and Jello
---
Other Indoor DIY Easter Decorations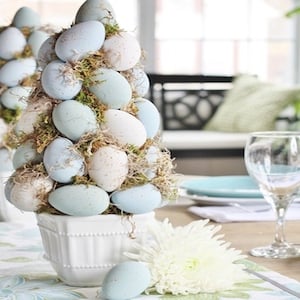 Egg Topiary Treefrom Sand and Sisal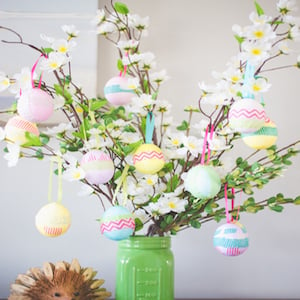 Egg Treefrom Peanut Blossom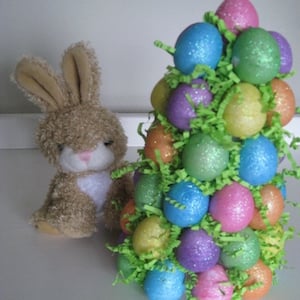 Easter Egg Treefrom Sweet Floweret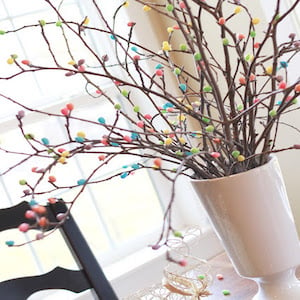 Jelly Bean Treefrom Crafty Sisters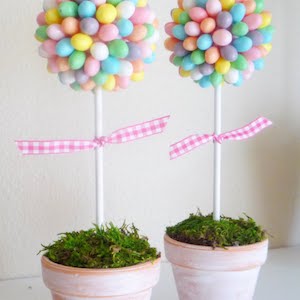 Jelly Bean Topiaryfrom Crafty Sisters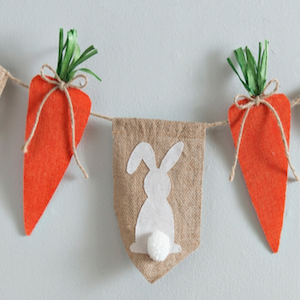 Bunny and Carrot Garland (source unknown)
burlap banner(with twine) + orange and white felt + green raffia + cotton balls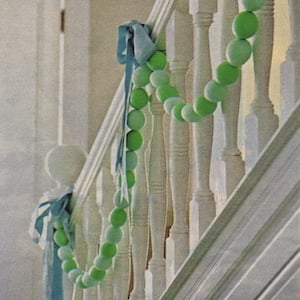 Egg Garlandfrom Princess and the Frog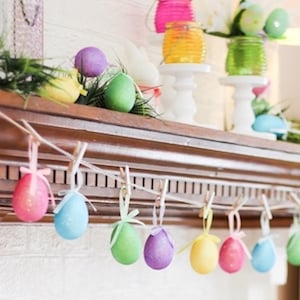 Egg Garlandfrom Real Coake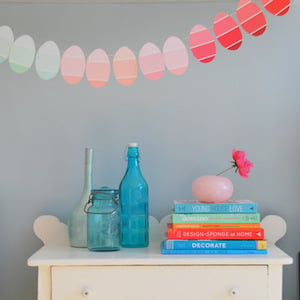 Paint Chip Egg Garlandfrom The Sweetest Digs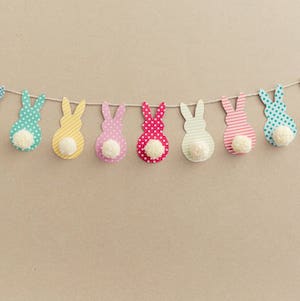 Bunny Garland from DIY Candy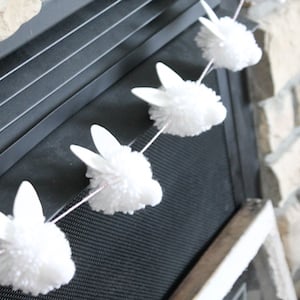 Bunny Pom Pom Garlandfrom Create Craft Love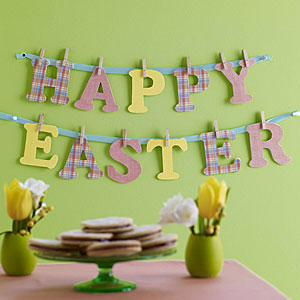 Easter Signfrom All You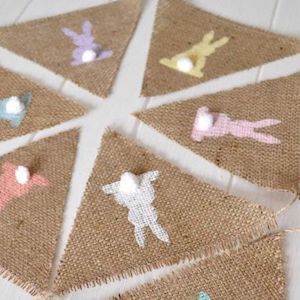 Bunny Burlap Bunting (no tutorial link)
burlap banner + bunny stencil + acrylicpaint + small cotton balls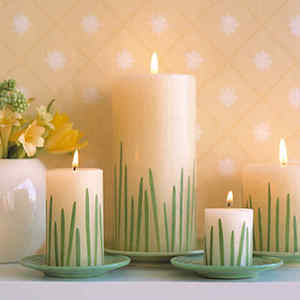 Grass Candlesfrom Martha Stewart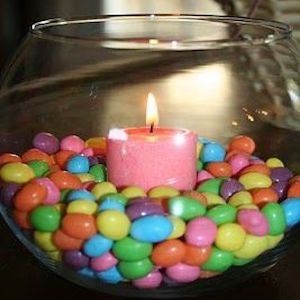 Jelly Bean Candle (source unknown)
glass candle holder + white pillar candle + jelly beans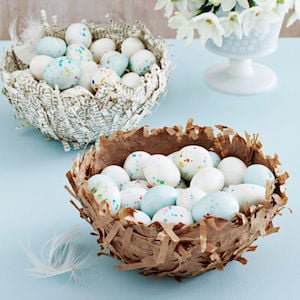 Papier-Mch Nestfrom Country Living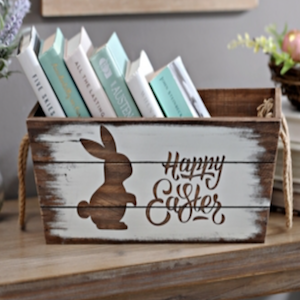 Easter Bunny Wood Crate (source unknown)
wood crate + white paint + alphabet and bunny stickers + rope
Apply stickers on thecrate where you want them and then paint. Let dry and remove stickers.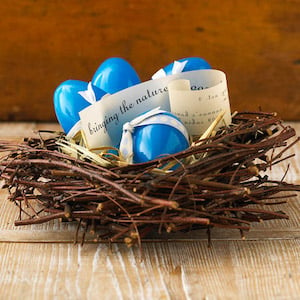 Twig Nestfrom BHG.com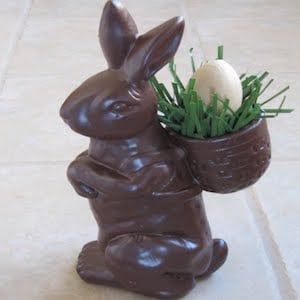 Fake Chocolate Easter Bunnyfrom Sew Many Ways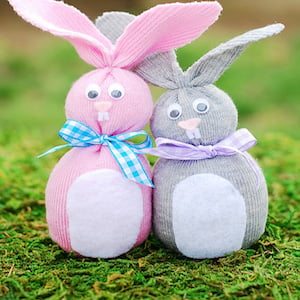 Sock Bunnyfrom A Pumpkin and A Princess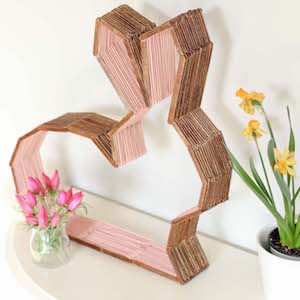 Popsicle Stick Bunnyfrom Make and Do Crew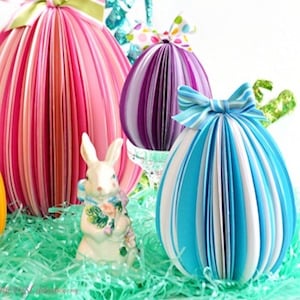 Paper Egg Decorationsfrom Little Miss Celebration
---
Wall Art Easter Decorations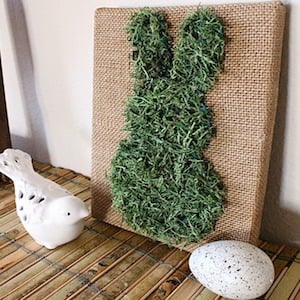 Moss Covered Bunny Canvas Artfrom The Kolb Corner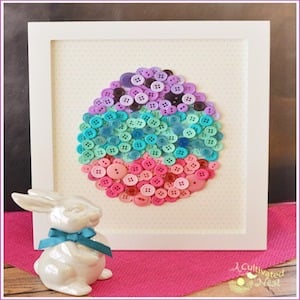 Egg Button Artfrom A Cultivated Nest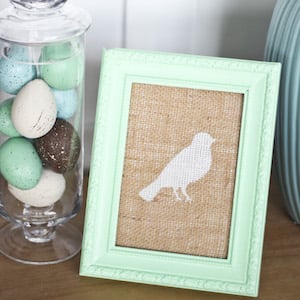 Bird Burlap Artfrom Honeybear Lane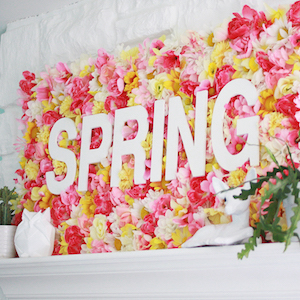 Spring Wallflower Signfrom A Beautiful Mess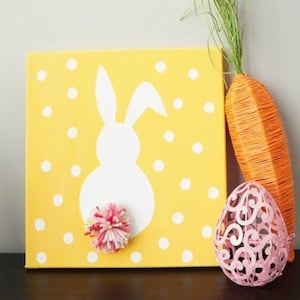 Bunny Canvas Artfrom Two Purple Couches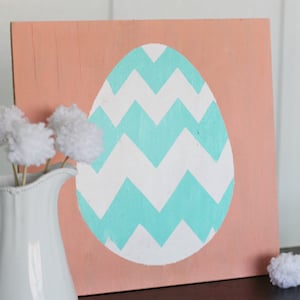 Painted Egg Artfrom Lolly Jane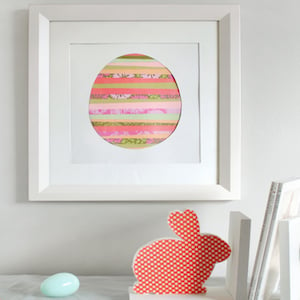 Paper Strip Egg Artfrom Minted.com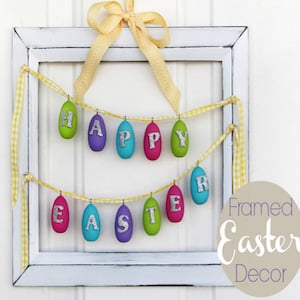 Framed Easter Decorationfrom Crafts Unleashed
---
Outdoor Easter Decorations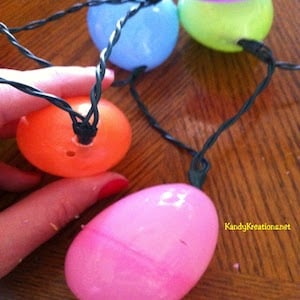 Easter Egg Lightsfrom Kandy Kreations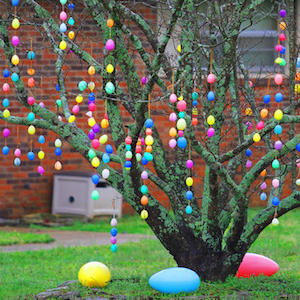 Easter Egg Tree (source unknown)
plastic eggs with holes + ribbon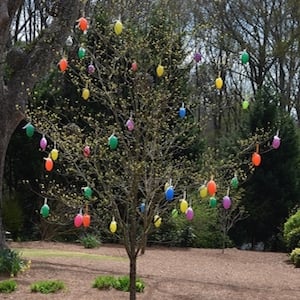 Egg Treefrom Between Naps on the Porch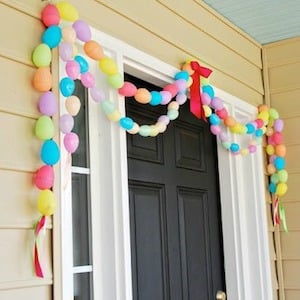 Egg Doorway Garlandfrom Honey and Fitz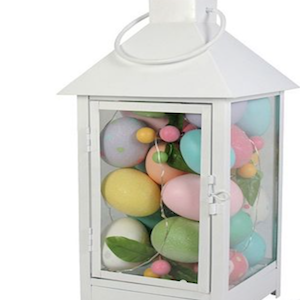 Easter Egg Lantern (source unknown)
painted foam eggs + easter glittery berries (You can get both at Dollar Tree)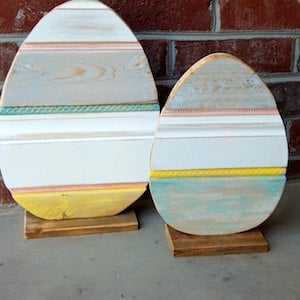 Reclaimed Wood Easter Eggsfrom My Recipe Confessions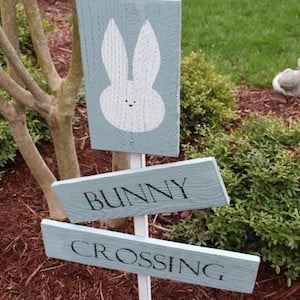 Bunny Crossing Signfrom Confessions of a Serial DIYer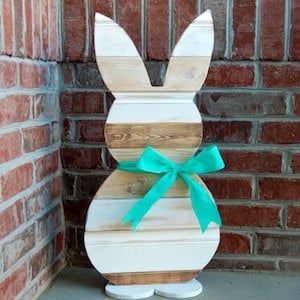 Reclaimed Wood Easter Bunnyfrom My Recipe Confessions
---
Related Post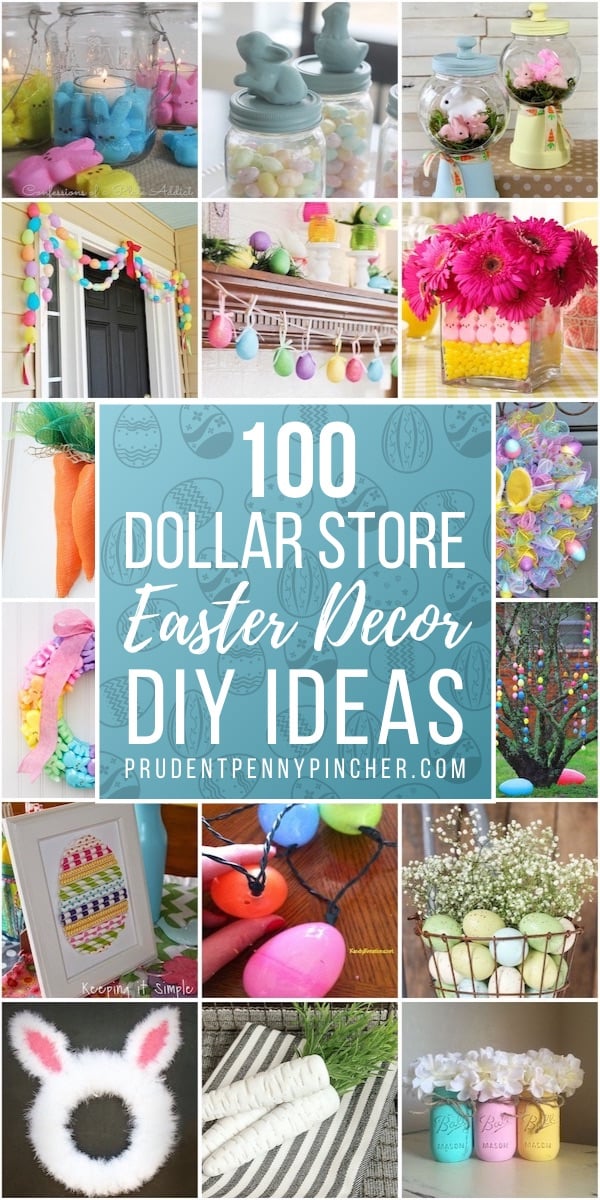 100 Dollar Store DIY Easter Decorations
The post 100 Cheap and Easy DIY Easter Decorations appeared first on Prudent Penny Pincher.