In my house, just about any time of year is a time for celebrating love and getting creative with hearts! I like to think that Ive taught my kids that these are year-round concepts rather than just things you celebrate on Valentines Day. Im also the kind of parent who always keeps an eye out for very simple ideas and likes to come up with really easy concepts that I think my kids could make themselves. All of those factors combined are how I found myself sitting down with my kids last week to show them how to make cute, bright red hanging heart decor from coloured string and pipe cleaner!
Do you love string and yarn wrapping techniques just as much as we do, if not more? Check out these step by step instructions complete with photos! If youd rather follow along with a video tutorial instead of written words, scroll to the bottom of this post to find just what youre looking for.
For this project, youll need:
Red pipe cleaner

Red and white string

Red yarn

Scissors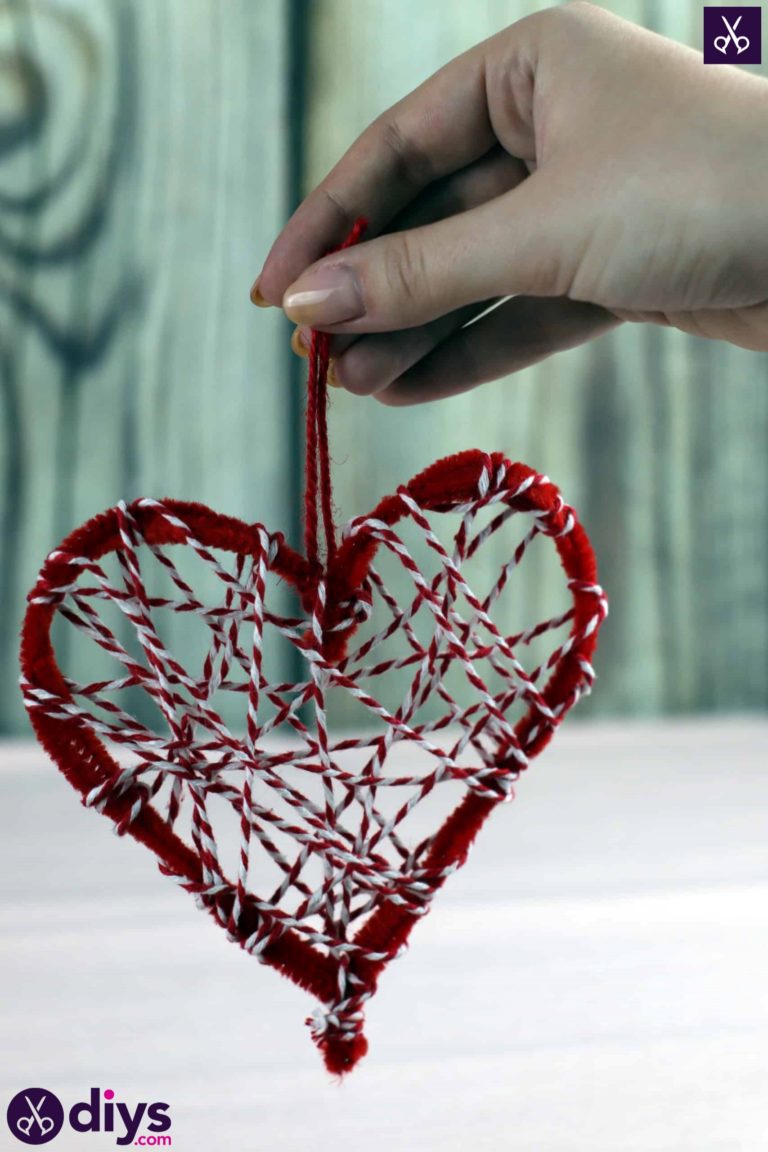 Step 1:
Gather your materials!

Step 2:
Cross the ends of your two pieces of red pipe cleaner over each other and twist them around each other to fasten them together. Turn the whole piece around and cross the other two ends over each other in an X shape so the two pipe cleaners overlap about three quarters of the way down their length. Twist the two together once more at that spot too. Bring that new twisted spot towards you and down so it bends in on itself, making the two pipe cleaners open away from each other. The goal is to make that second twisted spot into the top centre of a heart shape. Use your scissors to trim the excess off the ends you just twisted in the middle. Straighten, curve, and adjust the shape as necessary until youre satisfied that it looks like an actual heart. This is the base of your hanger and the shape youll be wrapping.
Step 3:
Cut a length of red yarn about six inches long. Tie it in a knot around the centre top of your pipe cleaner heart. Then tie your loose ends in a knot around each other as well, right near the tips, so theres a loop for hanging the heart from later between the ends and the base.
Step 4:
Tie the end of your red and white string around the twisted piece at the centre top of your pipe cleaner heart. This will anchor it so you can start your wrapping process. Trim the excess at the end of your knot if you need to, then start wrapping the live end of your string around the whole heart, in at all different angles and in whatever direction you please. You can pass your ball through the centre and wrap that we if you like, but I wanted my strong to passacross and stretch over the space in the middle of my heart rather than just wrapping thinly around the pipe cleaners, so I kept my wraps around just the outside of the heart. Be careful not to wrap too tightly or pull too heard while youre at it; pipe cleaners bend easily and you dont want to warp your heart shape. Wrap until youve got a web-like effect across the hearts whole middle and bring your end to the bottom of your heart. Tie it in a knot around the tip and cut it free from the ball, trimming excess if you need to.
Your heart is all finished! Feel free to use this same basic concept but play with different colours and shapes instead. Just in case youd like to try this project out for yourself, heres a fantastic tutorial video to help you!
The post DIY Hanging Heart Wall Decor appeared first on DIYs.com.