Learn how to make a DIY wooden beer caddy with a bottle opener using these plans. This beer carrier has a bottle opener on the side . . . and makes the perfect gift!
Skills Required: Intermediate Beginner. You should have some experience with the tools required. Most of it is cutting straight lines, however, youll have to shape a handle. Its not hard, so if youre an absolute newbie, just be patient.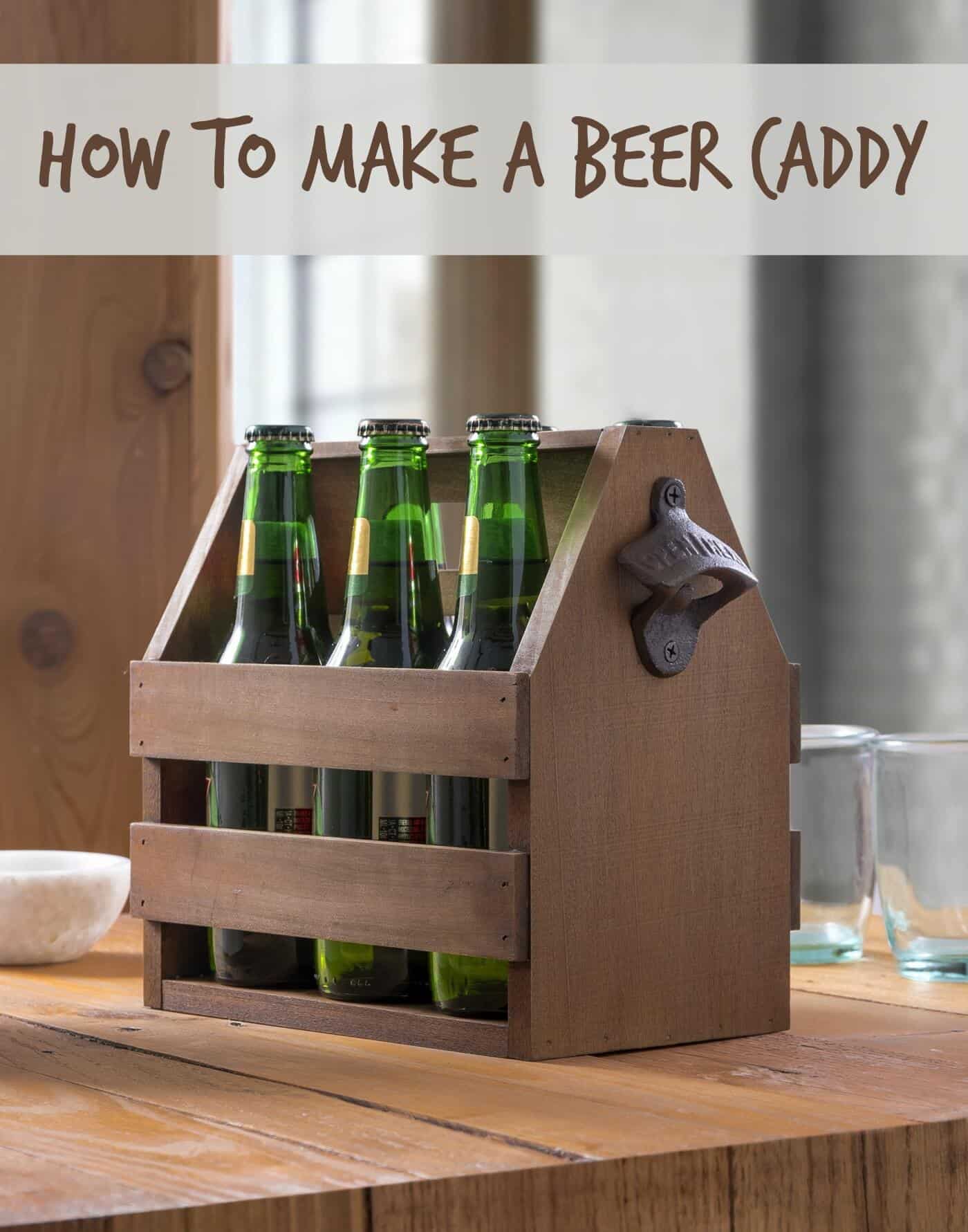 We arent huge beer drinkers around here, but every now and again we enjoy some suds. While I might not be a beerconnoisseur, we do have a few in the family.
Make a Wooden Caddy
This DIY wooden beer caddy is a great gift for the enthusiasts in your family. We actually made several for gifts but also made one for ourselves to take to parties. We can put any bottled beverages in it not just beer!
What do I love about this beer carrier? It can be made in six easy steps:
Make Your Cuts
Shape the Handle
Cut Angles
Nail Pieces Together
Sand
Finishing
Why Build When You Can Buy?
Ive seen some inexpensive versions of this beer carrier at places like Target, etc. I havent been impressed with the construction of the inexpensive versions, and a lot of them dont have bottle openers.
Of course you could add a bottle opener to the cheap version . . . but if you enjoying wood working (or even if youre a beginner), this DIY wooden beer caddy is perfect because you can wrap it up in a nice little bow in an afternoon. And this beer carrier is solid quality for only $10 $15.
Wood to Use
We recommend poplar for this wooden beer caddy. Its so easy to work with poplar, and its lightweight and reasonably water resistant (for perspiring bottles). It stains really well too.
If you want to make your project a little more inexpensive, just use pine. You can really use any type of wood poplar just happens to be one of our favorites.
Are you ready to check out the project tutorial?? Keep reading!
DIY Beer Carrier
Gather These Supplies
1/2 x 6 x 4 poplar hobby board
1/4 x 3 x 4 poplar hobby board
1/4 x 1 1/2 x 4 poplar hobby board
3/4 brad nails
wood glue
sandpaper
Danish oil or stain
Tack cloth
Wall mounted bottle opener (with two screws)
Tools
Miter saw or circular saw
Power drill
Jigsaw
18-gauge nailer
1 Forstner bit
Phillips bit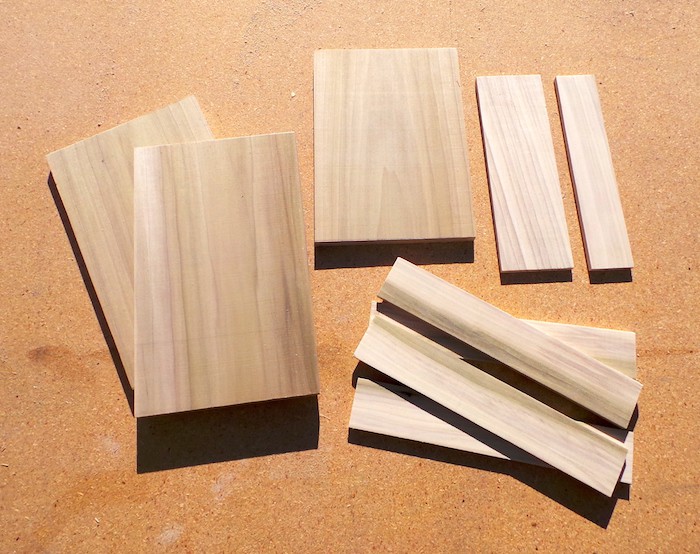 Step One: Cut the boards using your saw according to the following measurements
1/2 x 6 board cut into three pieces: (1) 7 3/4 in length, (2) 9 in length
1/4 x 3 board cut to 7 3/4 length
1/4 x 1 1/2 board cut into five pieces: (1) 7 3/4, (4) 8 3/4 in length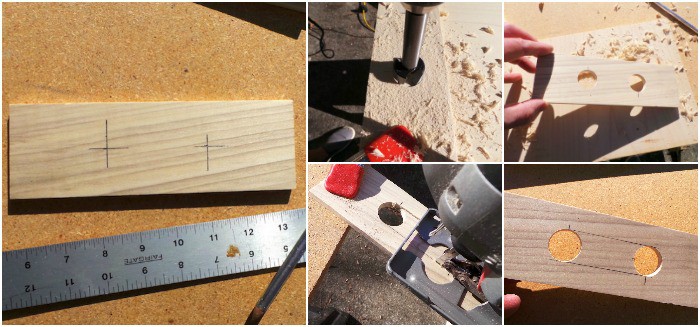 Step Two: Shape the handle. Youll mark the 7 3/4 x 3 piece of wood (with a pencil) 1 1/4 from the top and then 2 1/2 from each side. Then use your Forstner bit to drill two holes. Connect them with lines at the top and bottom of the circles, then cut those lines with a jigsaw to create a handle.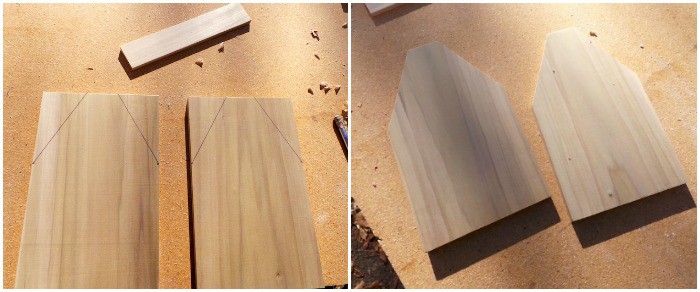 Step Three: Cut the angles. On your 9 pieces of wood, mark each side 5 1/2 from the bottom. Mark the middle of each piece at the top and use a 1 1/2 strip to create a point on each side of the middle. Connect those two points with a straight edge and cut the angles with a jigsaw (see above).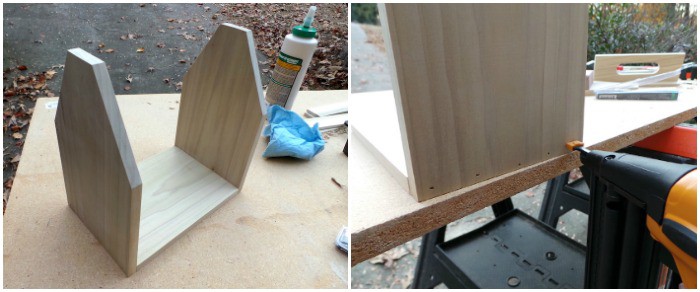 Step Four:Nail pieces together. Use your brad nailer to completely nail the frame together. Attached the angled sides to the base with wood glue and then secure with the nailer.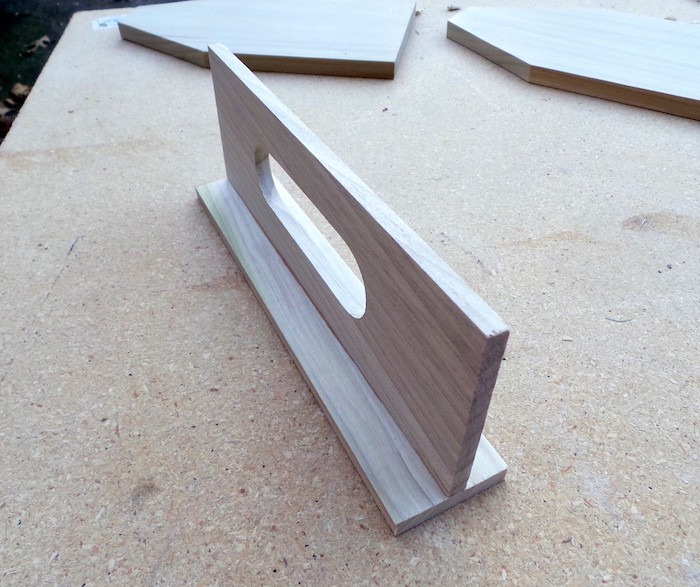 Align the 7 3/4 piece on top of the handle. Glue together. Attach the handle to the sides with wood glue and nail into place. Apply wood glue to the 8 3/4 sides and nail into the place.
Step Five: Sand the entire caddy with 80 grit sandpaper to start then progress to 150 and 220 grit sandpaper to make it very smooth.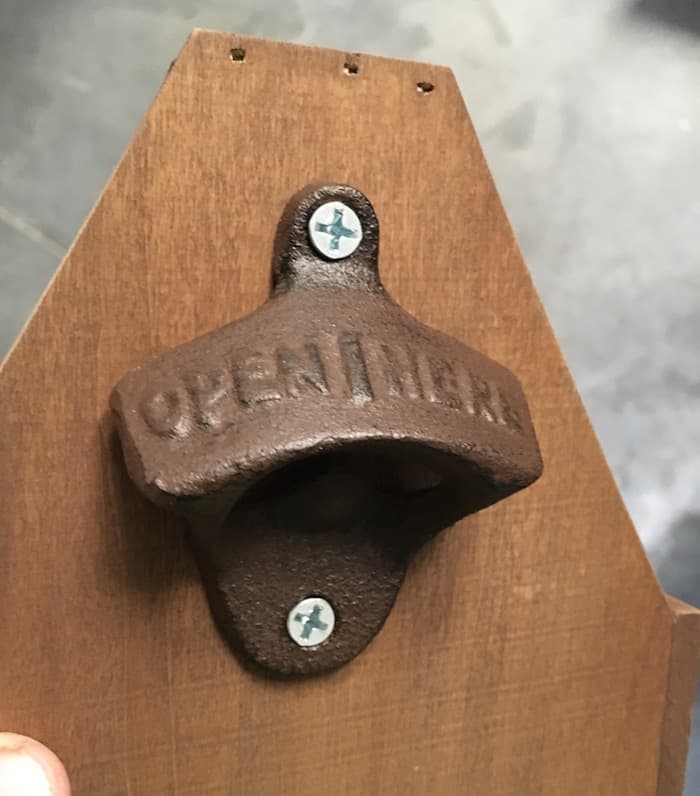 Step 6: Finish by staining or oiling your wooden beer caddy and then adding your bottle opener with screws. We only had silver screws so we touched them up a bit with brown-ish black paint to match.
Tip: if you dont have/want to purchase stain for your beer carrier, just use watered down acrylic paint in a dark color to stain. It works pretty well and is a lot cheaper than buying an entire can of stain if you are only going to make one.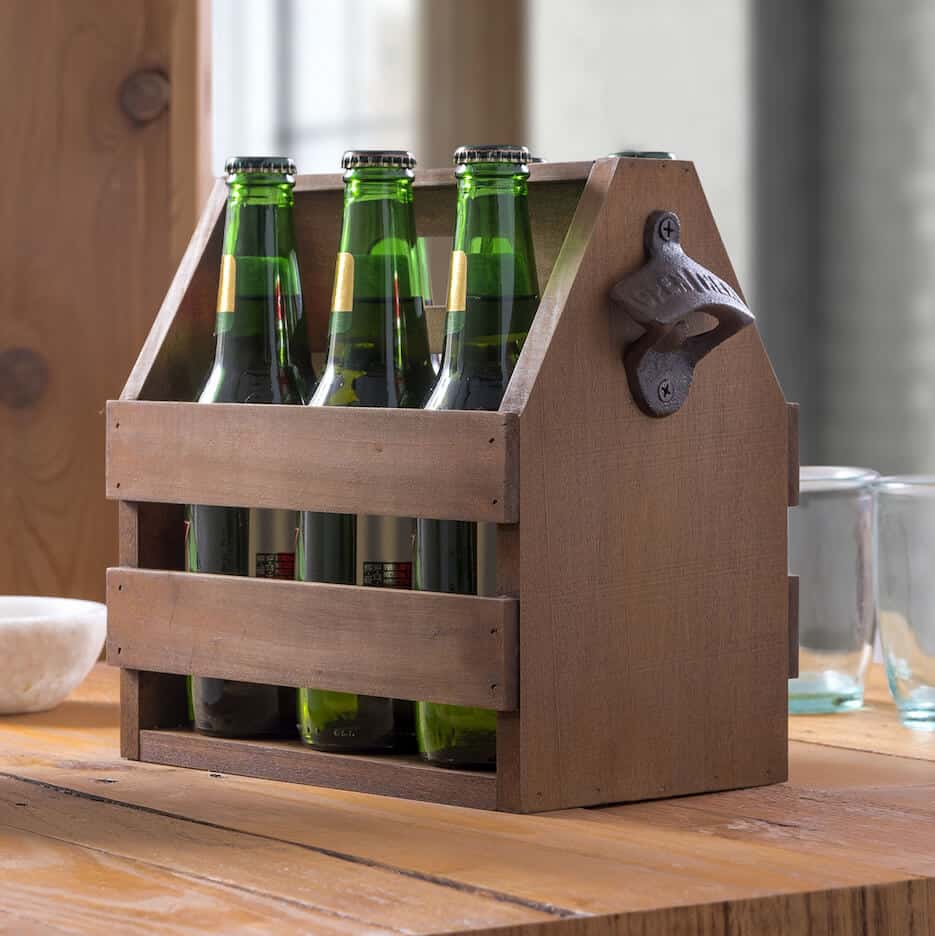 We are absolutely thrilled with our finished DIY beer caddy. If you try it, wed love to hear about your experience in the comments!
If you like our beer carrier, you might also like the following projects:
The post How to Make a Wooden Beer Caddy (in Six Steps) appeared first on DIY Candy.